A couple of cards...
Earlier in the month, I wrapped up a Valentine's gift for Spencer's first grade teacher. At the last minute I realized that I didn't have a card for her. So, I whipped this up and was pleased that Spencer was impressed with it. :)
The vellum phrase is one I've had for a while so I am not sure of the manufacturer. The heart die cut was on a sheet with a few others that said stuff about "Best Buds" I think. I matted the vellum quote and heart die-cut with pink handmade paper, and tied on a ribbon. I used a scrap of patterned paper for the background.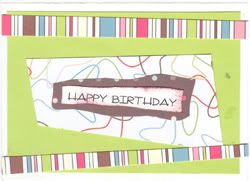 Friends of ours have a little girl that just turned one. Unfortunately we had to miss the party due to a Cub Scouts commitment, but I made this card to go with her gift that we dropped off the next day. All of the patterned papers are SEI scraps. I keep a sheet of pre-printed greetings handy with my card supplies so I can whip up cards like this pretty easily.


I just finished another book (real, not audio). It was called
"The Secret Life of Bees"
by Sue Monk Kidd. When I was living with my sister around the holidays, it was lying around her house. She wasn't reading it so I grabbed it and used it as entertainment while I was there. But it took me forever to read it and I just finished it this week. It doesn't fit the genres that I'm normally drawn to - crime, law, etc. But it's a Southern novel set in South Carolina, so I couldn't pass that up. It was actually a good book and sometimes it's nice to take a break from the crime and gore.