Happy Late Valentine's Day to all!
Here's a layout that I did a long time ago of 2004's Valentine's Day with Spencer. I don't even know if I have pictures of last year, and I didn't take any pictures this year either!
The layout shows Spencer helping me making supper - which were pink heart-shaped pancakes. We decked out the table and surrounding area with some Vday decorations and candles for ambiance. Spencer's special Heart Day gift was The Lion King 1 1/2 on DVD. It was a fun night!
a movie
My one Valentine's Wish (this year!) was to rent a chick flick that Matt & I normally would not watch - and I did. I chose
"In Her Shoes"
starring Cameron Diaz, Toni Collette, and Shirley MacLaine. It's based on the book, of the same name, by
Jennifer Weiner
. The book was recommended to me by my sister and I thoroughly enjoyed it, which is what enticed me to rent the movie. I enjoyed it as well, and would recommend it to others. There were discrepancies between the two, as there always is, but nothing that I considered unforgivable.

a book
Given my obnoxiously long commute to work (1+ hour each way), I have long since begun listening to "audiobooks"...something I would have normally considered nerdy or dorky. I began by getting books on CD at Cracker Barrell or the library - quickly learning that the selections were quite slim.

Being blessed with a thoughtful husband, I received an iPod Nano for Christmas and now have that as a means of listening to these "audiobooks". My eyes have now been opened to an endless library of downloadable prose...at quite the price! However, after picking my jaw up off the floor, I did find a way to get a few downloads for free. So, I have successfully listened to two of my three downloads and will be saddened with the third has come and gone...

The first audiobook I completed on my iPod was Patricia Cornwell's latest,
Predator
. She is one of my favorite authors and I finally was able to get "caught up" on her books. Predator is the latest in the Scarpetta series...which is my favorite of her books as well. It was a good read (or should I say a good listen), though I did find that I couldn't listen to it for too long of a time period.

The most recently finished book was James Patterson's
Honeymoon
. This one definitely held my attention. I found myself anticipating my car rides so that I could find out what was going to happen next. I love James Patterson and was definitely not disappointed by this book. Highly recommended!

Of course, Pictures!

This past weekend, we were lucky to have another couple come hang out at our new home with us. We are really enjoying have a nice place where people enjoy being! While they were there, we goofed off with the camera a bit and got a few good shots of us.

This is a picture of Matt and I (on the left) and this is Scott & Cameron, our friends (on the right).
















I also thought I'd throw in a few other pictures from not too long ago...why? Just because I LOVE pictures (and I just finally got a bunch of digital shots organized on my computer).


Guess who??? Yup-- it's me and Matt -- again. This was when we went out for his birthday in January.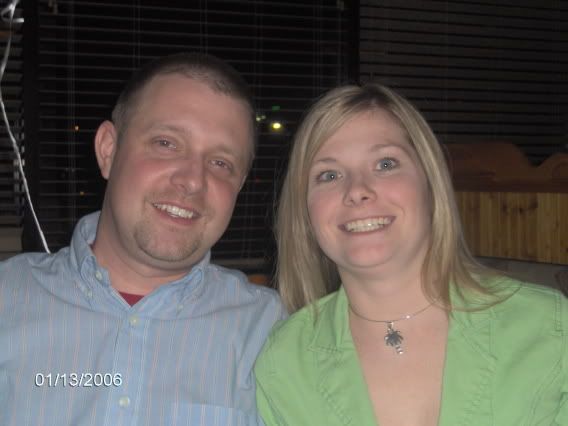 This is from when we went out for Matt's birthday with Spencer. As you can see, Spencer was being a tad silly.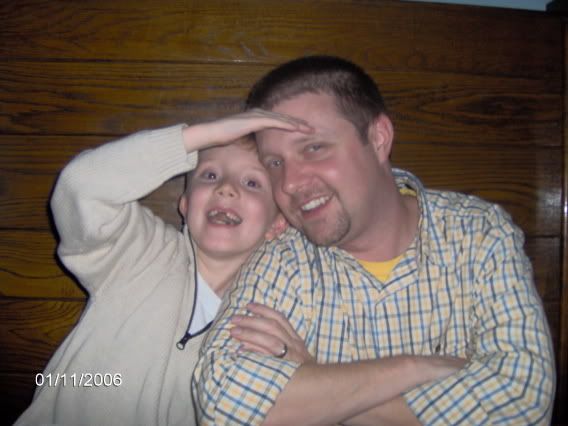 That's it for now... hope you enjoyed - ha ha!