this month, my
music monday
posts will focus on christmas music (creative, i know). it probably comes as no surprise that i am now the proud owner of the
glee
christmas album. i purchased it yesterday (
what took me so long???
) and i'm already loving it. the album consists of 12 holiday favorites, jazzed up to glee-quality musical goodness. if you aren't sure whether you want to invest in this, i'd recommend listening to this
preview
that gives you a taste of each song.
i am super excited for the
glee
christmas episode, which apparently is named "sue the grinch" and will air next week (12/7). another report is that susan boyle will be appearing (as the school lunch lady). though i don't love her style of singing, i bet she'll be funny on the show. she seems to have a cute and quirky personality. the most exciting part is that rumors claim
all 12 songs
will be in the
extended
episode
. it's like my very own christmas gift from fox!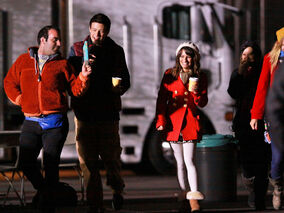 side note: rachel's outfit in this picture makes me want to run out and buy it, grab some hot chocolate and go caroling in the snow. anyone want to join me?
it was hard to choose, but right now, i think
last christmas
is my favorite on the album (probably because it's one of my favorites anyway).