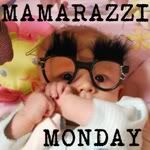 over at
Household6Diva
, she features *
mamarazzi monday
* for those of us that are crazy moms with cameras! i couldn't help but chuckle (and relate) when i read her explanation: "are you part of the mamarazzi? are you a compulsive picture taker? do you stalk your family with a camera? don't worry - we have plenty of openings in our support group."
i think everyone in my family would whole-heartedly agree that i'm a member of the mamarazzi
.
and, if my compulsive photographing isn't bad enough, having a decent camera on my iPhone just makes it worse! just this weekend, my iPhone allowed me to capture Coleman...
...playing in the front yard...
...in the bath tub...
...and swinging at the park...
are you a mamarazzi too???
share your snapshots and link them to
this post
.