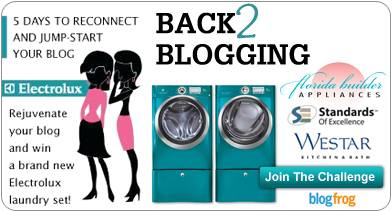 this week, i'm participating in the
Back 2 Blogging
Challenge
being organized by the SITS Blog and Community. each day, there is a post prompt and today's is to
re-upload a post with a title you are particularly proud of and explain why.
this was an interesting challenge for me because i haven't really given much thought to blog post titles...maybe i should be thinking about them more. looking at old posts, it is
quite
obvious that i don't get very creative! i do enjoy consistency and like that i've settled on something for a while. and i confess that when i look at older blog posts without this format, i get a little annoyed with myself! anyway, this is one that caught my attention.
Believe...
originally posted on 12.12.2006
Saturday evening we turned off all the lights, except for the Christmas bulbs, of course. We made some popcorn and lit an evergreen scented candle. We cuddled under warm blankets and lit a fire. Spencer read The Polar Express aloud to Matt and I, and then the three of us watched the movie together (a first time viewing for myself and Matt). It was one of those memories that Christmas is all about.

It would've been so easy for me to "excuse" myself from the living room to finish up the laundry or wrap the piles of gifts that need it...but I'm so glad I didn't. In addition to the quality family time, the movie was really wonderful - a great film to put you in the spirit and remind you how important it is to believe.
i think the reason i was so drawn to this title, despite it not being very creative, is because it's my favorite christmas word. *believe* conjures up everything about christmas for me - grown-up, childhood, religious, magical...all the good stuff.
****************************************************
Links related to the #Back2Blogging Challenge:
Sponsors: